Meggie the Pup's Summer Adventure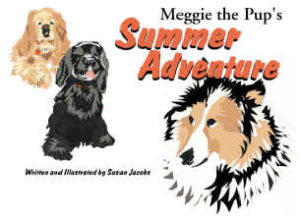 Click here to view children book sample pages
     No doubt, every dog owner has engaged in a one-way conversation with his or her pet. Author and illustrator Susan Jacobs, has managed to capture not only the dog's response in conversation, but also a unique and naïve dog's view of the world, in her book "Meggie the Pup's Summer Adventure".
     This is a beautiful, light-hearted children's book that would also make a great gift for any dog enthusiast. Based on true observations, Meggie the sheltie pup reveals her thoughts and misinterpretations during a stay at Aunt Sue's house. She is joined in the adventure by Aunt Sue's two cocker spaniels. Tootie is totally opposite of Meggie. She's bold and bossy in contrast to Meggie's demure demeanor. Weezie is older and just likes to be left alone.
     The story unfolds in true 21st century style, with Meggie emailing her mommy at her vacation site. Hand cut construction paper illustrations in vibrant color depict the various personalities of the canine trio, and expressively interpret the text. The paper art medium is a familiar one for children, yet the style is several steps up in sophistication.
     Every humorous moment you've experienced through dog watching, is now caught on the pages of this book. It's a smile from start to finish.