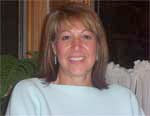 Any dog lover understands wanting to do the best for our canine friends.  This is the driving force behind Blissful Biscuits.  We've decided to make treats that are healthy for dogs who would otherwise be fed chemical preservatives from mass produced treats. After extensively researching what dogs need and enjoy, we experimented with many processes and ingredients, and created Blissful Biscuits.
Susan Jacobs is an artist and an art teacher, and now entrepreneur. Each career has complimented the other. A graduate of Hickory High School, Hermitage, PA., Susan is a lifelong resident of the Youngstown-Sharon area.
Susan's teaching experience has been exclusively in the Mathews school district. She has taught every grade level of art, and is recently retired from being the only art teacher employed at Mathews, where she has taught for 30 years. She holds a B.S. in art education, elementary certification, and Master Teacher Secondary Art degree, with a concentration in painting from YSU.  Currently she teaches graduate workshops as an adjunct professor at Ashland University, and instructor for Midwestern Intermediate Unit IV Continuing Professional Education in PA. Susan also teaches painting and drawing classes to local artists.
Several years ago, she started her gourmet dog biscuit company, Blissful Biscuits, where the storefront is found at www.blissfulbiscuits.com. Products include 10 varieties of healthy dog biscuits, 2 extremely low fat varieties, cake-in-a-jar for dogs, unique gift packaging, hand painted dog doorstops and now her children's book, or dog lover's gift book, Meggie the Pup's Summer Adventure.