Welcome

to Blissful Biscuits!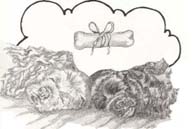 We offer healthy, homemade, vegetarian dog biscuits that are actually good for your dog. We have wheat based and also wheat/corn free dog biscuits, only use premium ingredients, no added salt, and now preserved with natural vitamin 'E". Our unique packaging makes great gifts too!
Our products are not factory produced. All ingredients are hand selected from health food stores or grocery stores, organic when possible and nothing from our ingredient list is on the recent recall list of items. We have fresh, healthy, homemade treats, and no glutens or chemical preservatives are added- safe for your dog!
Blissful Biscuits is proud to announce our healthiest dog biscuit yet! We've taken all of the recommendations from the Heart Association.
Now preserved with natural vitamin 'E' – a healthier dog biscuit!
Premium ingredients – only in a homemade dog biscuit
Wheat/corn free biscuits for dogs with allergies 
Bite size – all canine breeds enjoy 
Hand cut – with love and care!
We can now offer to you, 12 varieties of great, healthy dog biscuits, each with a particular shape, flavor and purpose. Our ingredients are listed on every package, and contain only the good things you would find on your grocery list, like fresh parsley, eggs, milk, fresh garlic, cheddar cheese, bone meal, pumpkin seeds, unsulfured molasses, fresh carrots and celery, and oatmeal. You can also find a variety of flour choices. Some dogs unfortunately have allergies to wheat, so we have non wheat choices as well. Other easily digestible flours are rice, oat or soy, plus we do offer wholesome whole wheat choices for dogs without allergies.
Humans can eat Blissful Biscuits too, and they do! Owners who participate in showing their dogs have found the treats to be tasty and healthy enough, that they can hide a treat in their own mouth, and then give it to the dog after a completed trial!
We've named our biscuits after our particular canine friends and their favorite biscuit.
Have something in your cart already?
View cart